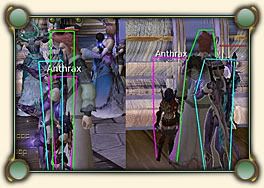 Since we were just discussing this in our guild forum, i figured i post a few links/pictures about this on my blog as well. Due to the fact that EU/USA beta has been version 1.0 there is still the persistent rumour that tiny characters have a huge advantage in Aion. This is not true and the
hitbox has been fixed
in one of the patches. There is a small difference in the size of the hitbox - basicly the hitbox from tiny chars goes up to the shoulders of normal chars, which reach up to the shoulders of huge characters. You can see on the pictures what I'm refering to. There is also a
video on youtube
showing the char hitbox. As you can see the advantage is not as large as some people want to make you believe.
I'm only talking about the hitbox and not a visual advantage if you have a small character standing behind a larger one or hiding behind a bush.
Here
is a thread that showcases the visual difference nicely between small and large characters.
One thing to keep in mind tho - or maybe test during open beta - is that if you create a midget char, the character animations for running, fighting, etc. look kind of weird, as if your char smoked some speed mushrooms. Personally i don't like it and will create a larger char for my Templar. Anyway, hope this gives you something you can test or think about during open beta.