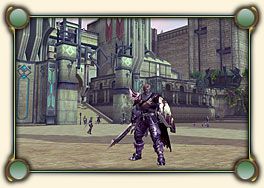 Alright, the headstart so far has been very busy. Like i mentioned before our guild
Versus
joined the EU server Gorgos. There are a bunch of players in their mid-twenties now, so we can expect some Abyss activity soonish. Our plan for the headstart was to stay ahead of the crowd and i think our guild manages quite good so far. We can also proudly say that we were the first legion to kill King Zugog on our server. Despite that i did not play as much as some others, my Templar Thulf did hit lvl 20 today. Since i played through the first 20 levels two times already, now comes the fun stuff as i don't know all the quests and tasks. Even with the patch 1.5 the leveling takes some effort and with approx. 18.5 levels i did hit a wall where i had to grind elites and only very few elite quests left. Some longer guild group action got me over the dead point tho. Trying to get your hands on nice gear from named mobs has been fairly easy in beta, but is a bitch right now. Looks like everything is being camped or on a respawn timer.
Due to the enforced character creation rules all servers look fairly balanced so far. Check out the
new official Server Statistics
site.
Did you see the new
Aion live Character & Legion Database
?
I'll try to take more notes and post some stuff about my adventures while i get further into the game. Since NCsoft made a major update to their
Powerwiki
some new information came through, so i have to update older guides i posted. Kudos to NCsoft for pulling off so many website updates. TBH i did not think they would make it in time. Updating older posts in my blog can take a few days tho, as i have to balance playtime and writing for my blog. ;)