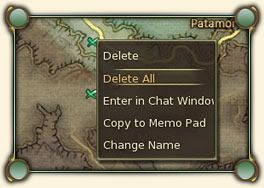 Did you know you can
mark custom locations on the worldmap
and link those to the chat window in Aion? This UI feature is very useful if you try to explain a group or legion member where to go for a certain quest or where the meeting point should be. You can also use it to mark rare named mobs for your later reference. How to do it: Open a zone map via the worldmap UI. Now
ctrl + right-click into the map
where you want to place the marker. You'll see a
greenish X
on the map now and there will be a link posted into the chat window. If someone else clicks on that link he'll get the same marker on his map. Could also be used to alert others where enemies are invading your zone.
If you right click the cross on your map, you'll get a
small pop-up menu with options
to rename the marker, delete it, paste it into your Memo Pad or chat window again. Note: "Delete All" will delete all markers on
every
zone map, not just the one you're viewing. The marked locations will persist should you log off.
Note:

I tried this before and it worked, but in the OB now it did not. so either its a bug or the map marks only persist a short amount of time. To be save, copy them over to your Memo Pad.
The build in
Memo Pad
(Menu -> Community -> Memo Pad) allows you to store any notes or links you might want to remember ingame. If you intend to store a link, right-click it in the chat window and you'll get the option to save it into your Memo Pad. To paste a link from your Memo Pad back into the chat window use ctrl + right-click on that link.
Another great idea:
Use the Memo Pad to store Rift Locations
. Just
copy this code
(found it
posted by tpg0007
, but updated the zone names) into your Memo Pad and use it as a reference.
Other links you can create to store them:
# Link to item information in chat by ctrl + right-clicking the item.
# Link to quest information in chat by ctrl + right-clicking the quest title in the Quest Log.