A really useful feature in Aion are the
Kisk Summoning Stones
. Everyone knows the Obelisk stones you can bind your return location to and will also be returned to when you die. But did you try out Kisk stones yet? They are basicly
portable Obelisks
: You can buy them from a vendor and summon them nearly everywhere. Depending on the size of the kisk a different amount of people can bind to them. The Kisk will stay up for two hours or until destroyed.
There are
three different sizes
:
Small Kisk Summoning Stone
(Miscellaneous Goods merchants, eg. in Pandaemonium)
Medium Kisk Summoning Stone
(vendors at the Abyss Strongholds)
Large Kisk Summoning Stone
(at Legion Item vendor with legion rank 3)
Once you spawn the kisk you need to "bind" to it to be able to use it. The tooltip will give you info about the amount of people that did bind to the kisk, resurrection times left and remaining time of the two hours. You can't use your return skill to go back to the kisk, only resurrect at the stone.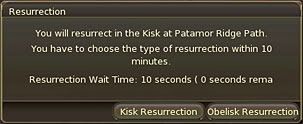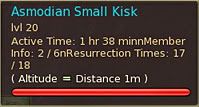 Should you die, you'll get the option to resurrect at the Kisk (only if you did bind to it) or the last Obelisk you are bound to. So binding at a Kisk won't replace your Obelisk spawn point. The option is great should you get ganked by enemies at your Kisk spawn point. It can be very useful to have a kisk should you adventure into the Abyss or inside enemy territory.
Note:
Everyone can use your kisk - even people not in your group or legion - at least with the small kisk (only one i tried yet) its like that. So basicly its possible someone can leech from your kisk and use up resurrection times. So its best advised you hide it properly. Players from the other faction can also destroy your Kisk should they find it.