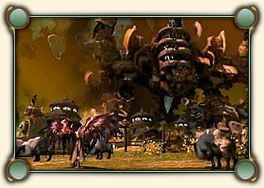 NCsoft posted a
trailer
with things in their pipeline. From the looks its just a concept trailer, but the stuff looks really nice. If they only manage to implement half of it, people will be happy. That is, if NCsoft can finally battle the bots, gold sellers and implement a real customer support ingame. The trailer shows a lot of things and besides those hints that Aion will be upgraded to a new version of the
CryEngine
(at least version 2, possibly
version 3
) in the future. The graphics look really stunning.
Aside from the new engine, from what i saw the trailer shows:
- swimming & diving (underwater areas)
- new really large creatures to fight (including a big ass dragon)
- seasons in all areas including capitols
- player housing (including custom furniture) next to capitols
- some kind of black-board system
- new travel system via boat (water & air), probably addition to flight master
- player mounts with option to carry another player with you as well
- feature to knockdown/tame wild animals and ride those
- new weapons/spells
- crossbows
- a Templar transforming his shield into a grappling-hook-hand
- Spiritmaster fighting on the back of a raptor
- the summoning of a huuuge mountain like giant
- a large battle between Elyos & Asmodians inside the asmo player housing area
Truely some cool stuff. Anything else you spotted, that i did miss?
Edit:
You can download a HD version (448MB) of the trailer in .flv from NC korea
here
.